NBC's Today Show features Angel Flight on November 20, 2003.

President Bush thanks former AFA chairman Tom Holcom in Kansas City

---
Combined Organizations to Represent Estimated 90% of All Charitable Non-Emergency Medical and Compassion Flights in the United States

Oshkosh, WI, July 30, 2003 – Angel Flight America and AirLifeline, the two oldest and largest charitable aviation organizations in America, have agreed to merge, it was jointly announced today by Doug Breckenridge, Chairman, Angel Flight America, Bill Ayer, Chairman, AirLifeLine, and Randy Quast, President and CEO, AirLifeLine, at a press conference held at EAA AirVenture Oshkosh 2003.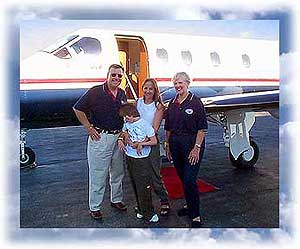 The merger, which is expected to be effective at the end of August 2003, will result in the integration of Angel Flight America and AirLifeLine, The combined organization—which will operate under the name of Angel Flight America--promises to provide increased advantages for people in need seeking free air transportation to specialized health care facilities or travel due to family, community or national crisis. The merger will also produce, by far, the largest volunteer pilot organization in the country with over 5,000 volunteer pilots and the coordination of more than 20,000 mission requests each year.

This is the most exciting development in our joint efforts to help people access the health care they need," said Doug Breckenridge, chairman of Angel Flight America. "Our volunteers' hearts are all in the same place, and now by operating under one umbrella, we will be able to maximize our efficiency and effectiveness."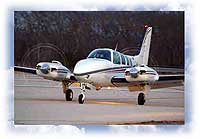 "Our goal has always been to reach out and help more people in need," said Randy Quast, president of AirLifeLine. "By combining our efforts into one united organization, we will grow by leaps and bounds, which we could not have done on our own."

The organizational structure of Angel Flight America will continue to include six autonomous regional Angel Flight member organizations including Angel Flight West, Angel Flight Central, Angel Flight South Central, Angel Flight Northeast, Angel Flight Mid-Atlantic, and Angel Flight Southeast. Mercy Medical Airlift is also a member of AFA providing access to free or discounted airline tickets for passengers needing to travel more than 1,000 miles. AirLifeLine's current volunteer pilot members will be automatically added to the pilot roster of their respective regional Angel Flight organization. All mission requests will be coordinated by Angel Flight in the region from which a passenger request is received. The merged organization will be headquartered in Memphis, Tennessee.

Thanks to the work of Angel Flight America's and AirLifeLine's corps of volunteers, supporters and staff, missions counts have been growing every year. In 2002 alone, nearly 11,000 missions were flown and over 23,000 passengers were served by Angel Flight America, while AirLifeLine's pilots flew nearly 4,500 missions and served over 9,000 passengers. Nearly 40% of both organizations' missions were for children.

For more information about Angel Flight America and its members, please visit www.AngelFlightAmerica.org.


# # #
<<return to top


---
August 2002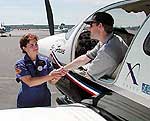 As part of the Flight Across America, one pilot from each of the 50 states has been chosen to carry an official state flag to be presented to the City of New York as a show of national solidarity. One of the largest contingents of flag bearers is a group of 10 volunteer pilots who are a part of Angel Flight America, a non-profit organization of private pilots and ground volunteers who flew over 100 missions during the September 11th rescue efforts. "Having Angel Flight pilots who flew relief missions after 9/11 join us on Flight Across America is an honor for us. Their presence underscores how much we want to show our support for the country on this terrible anniversary," said Molly Peebles.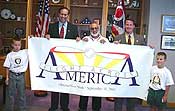 Following the terrorist attacks, commercial air traffic was grounded and airports were closed, but FAA allowed Angel Flight volunteers to fly. Angel Flight pilots flew firefighters, families of victims of the bombings, Red Cross personnel, medical and other supplies including the protective booties for the Search and Rescue dogs to New York and Washington, DC. The Angel Flight network counts over 4,500 pilot members and will fly over 10,000 missions this year, representing nearly 70% of charitable aviation flights in the United States.
To follow progress or for more information on the Flight Across
America, visit the web site at http://www.flightacrossamerica.com.

Angel Flight pilots participating in Flight Across America:

James Silvia - Arizona
Robert [Dalton] Beaty - Arkansas
John Martins (co-pilot Ken Coolidge) - California
Ken Jackson - Idaho
Matt Verdieck - Oregon
Mark Weitzman - Nevada
Clay McCardell - Wyoming
Lee Mook - Indiana
Kevin Rebman - Minnesota
C. Stephen Koch - Kentucky
Aaron Glassman - Virginia

<<return to top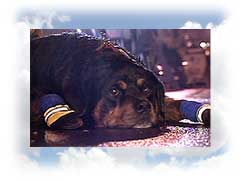 "After the terrorist attacks on New York City and Washington, D.C. on September 11, 2001, commercial airspace throughout the country was virtually shut down
—
but Angel Flight America pilots were granted special permission to fly more than 100 emergency missions that included family members, firemen, blood, and other supplies. The dog pictured above is wearing booties similar to the ones that Angel Flight transported for the Search and Rescue dogs at Ground Zero."